Pokémon, Skylanders and a tiny blue bird.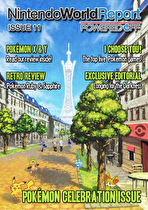 Download Nintendo World Report: Powered Off Issue 11
Hello darkness, my old friend
I've come to talk with you again
Because a vision softly creeping
Left its seeds while I was sleeping
And the vision that was planted in my brain
Still remains.
This month, James Jones delves into the darkness, longing for the days in which Nintendo's download press releases were filled with possibly unintentional hilarity.
Aside from that, we have some articles on Pokémon, including an interview with Game Freak, New York Comic Con, and an article about two Kickstarter campaigns with two very different outcomes.
Review wise, there is a nice spread with titles including Sonic, Pokémon and even a hidden GameCube gem.
All that and more, please enjoy.
You can send your mailbag questions or game ideas in here.