E3 flash mobs and marketing failures spice up this months issue!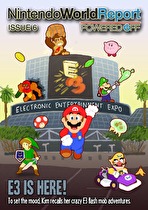 Download Nintendo World Report: Powered Off Issue 6
We have a variety of great content this month. First up is an exclusive article from Kimberly Keller, she talks about the time she was lucky enough to get into E3 without being a member of the press. The second exclusive article is from James Jones, he talks about failures in marketing related to console names and other such things. Comments from the NWR community have also been included again, this time the discussion point was what people want to see Retro Studios working on.
Blogs and features include articles on Game Ratings, Sonic the Hedgehog, Waluigi, Earthbound, our second Staff Sez and a Retro Revival! We of course have another interview, this month we have part one of an old interview with Julian Eggebrecht from Factor 5.
Aside from all that, we have a good mix of reviews along with mailbag, fan art and a cool Mega Man Match-Up game.
You can send your mail in here. Thanks for reading!