Impressions, previews, features, interviews, we have it all this month!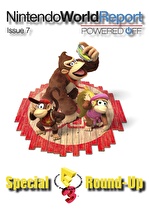 Download Nintendo World Report: Powered Off Issue 7
This month's issue is bursting at the seams with a page count of 65!
This issue features only our E3 coverage, so if you missed some of the articles over the past few weeks, you will be able to catch up on all of it here. We hope that having our E3 2013 articles all in one place will be a great way to read it now, and also as a way to look back on in the years to come.