This issue is packed with Metal Gears, Gunpei Yokoi, and pants.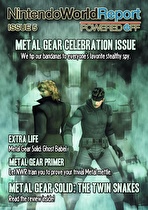 Download Nintendo World Report: Powered Off Issue 5
Metal Gear's the theme for this issue of Powered Off. We have a bunch of articles that relate to the series on Nintendo platforms, including a primer on the series and a massive interview with Denis Dyack on the creation of The Twin Snakes.
Aside from Metal Gear, we have some articles on Gunpei Yokoi, storytelling in video games, and a roundup of some of the NWR Community's favorite launch games. Reviews this month include some Metal Gear, Game & Wario, and Silent Hill.
We also have the first appearance of our mailbag page this month. We hope to be able to include this section more often, so please send in some questions.
You can send your mail in here. Thanks for reading!