The Wonderful 101 is finally here, along with a heaping pile of DSiWare games.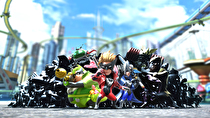 It's hard to top weeks like last week. While today's offerings may not be as robust, The Wonderful 101 should still bolster your spirits. Not to mention some killer sales and the black sheep of the Zelda family (you know, if you don't count the CD-i games). For the RPG fans out there the demo for the next Etrian Odyssey game is also thrown in the mix. So sit back, buy some games you missed on sale, and get ready for some Wonderful 101! There's also a triple helping of DSiWare games which is nice…I guess.
Wii U Retail Games
The Wonderful 101 - $59.99, Available September 15
3DS eShop Sales
Super Little Acorns 3D Turbo - $3.99 until 9am October 2
Bike Rider DX - $2.99 until 9am October 10
Wii U eShop Sales
Toki Tori 2+ - $8.99 until 9am September 19
3DS Virtual Console
It's football season here in America, which means it's a great time to roll out Tecmo Bowl! Now, I don't know much about football, but I'm pretty sure it's the one with the weird shaped brown ball, which this game appears to have. It also has yards, points and helmets. What more do you want!? Football!
Wii U Virtual Console
Zelda II - The Adventure of Link - $4.99
Despite the fact that people seem to have taken a shine to this game in recent years, I distinctly remember it being the Zelda game that we all pointed and laughed at in the '80s. It's certainly a strange deviation from the Zelda formula, but, at that time, the Zelda formula wasn't really established. Regardless of your feelings on the game, it's a solid entry nonetheless.
DSiWare
Letter Challenge - $2.99, 300 Points
Seriously you guys, letters are hard. I remember those long nights studying for grammar tests and that time I passed out during a spelling bee when they asked me to spell "cockroach." Do yourself a favor, make letters fun again with Letter Challenge, which includes a whopping four different game modes to test your skills in.
Tales to Enjoy! Little Red Riding Hood - $1.99, 200 Points
Billed as "a collection of Interactive Stories," this is another proud entry in the "probably not technically a game" category. Although it does include minigames. Each story is a variant of Little Red Riding hood, so hopefully you really like that particular tale.
Tales to Enjoy! Puss In Boots - $1.99, 200 Points
Oh man, we get two interactive story games this week! For the unobservant among you, this is identical to the game listed above except that it is about, you guessed it, a cat that wears boots. He also wears a hat though, but no one seems to ever mention it...
3DS eShop Demos
Etrian Odyssey Untold: The Millennium Girl - Available September 16