More Street Fighter than you can toss a hadouken at.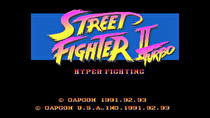 Street Fighter fans, rejoice! You now have a selection of not one, not two, but three Street Fighter II games on your Wii U! You even get a discount if you buy all three, although I'm a little puzzled as to why someone would want to own all three versions of one game. But, to each their own, I suppose. If that's not enough for you, then Ryu Hayabusa's second outing is available for the 3DS.
If you, like me, already own all the Virtual Console games released this week, then you're invited to join me in my underground bunker as I patiently await the deluge of releases coming this fall. Bring snacks.
3DS Retail Games
Phineas and Ferb: Quest for Cool Stuff - $29.99, Available August 27.
Wii U Retail Games
Phineas and Ferb: Quest for Cool Stuff - $39.99, Available August 27.
3DS eShop Sales
30% off many Ubisoft titles on the 3DS eShop, offer valid from August 20 to August 27. Games include:
Rayman 3D
Rayman Origins
Tom Clancy's Ghost Recon: Shadow Wars
Tom Clancy's Splinter Cell 3D
Rabbids Travel in Times
Petz Fantasy 3D
Wii U eShop Sales
Buy one Street Fighter II games, get two more at 50% off.
3DS eShop Games
Any game that boasts "serene sounds" as a feature is okay in my book. All you rageaholics out there should pick this up and settle in for some nice, peaceful puzzle-solving on your favorite handheld. Maybe skip the harder levels though. I saw what you did to your DS over Tetris DS.
Wait, don't go! This mini-game collection is different! You can pit your Mii against a slew of multiplayer or single player attractions as well as use the gyroscope in your 3DS to aim darts and other fun objects! Actually that does sound like all the other mini-game collections, now that I think about it.
Fishing enthusiasts have been getting quite a selection on the 3DS! FISH ON 3D featured a mind-boggling 400 lures and 75 titles. Heck, I didn't even know there were enough kinds of fish to necessitate 400 lures, but that's just the kind of attention to detail that you'll get in FISH ON 3D.
3DS Virtual Console
Ninja Gaiden II: The Dark Sword of Chaos - $4.99
Some crazy stuff has gone down and it's Ryu's job to set things right once again. The evil Ashtar is plotting to take over the world, but you and I both know we're not about to let that happen. Grab your sword and your Ninja clones and go kick some butt!
Wii U Virtual Console
Street Fighter II: The World Warrior - $7.99
The original Street Fighter II that took the world by storm! Fight your way from country to country with the original eight combatants complete with old-school, slow-moving characters and hilarious character portraits.
Street Fighter II Turbo: Hyper Fighting - $7.99
Street Fighter II Turbo: Hyper Fighting introduced the bosses from the previous entry as playable characters, boosting the roster count to twelve. More impressively though is the ability to adjust the game speed, thus why this is the Turbo edition. Many fans still consider this version to be the best on the SNES despite.
Super Street Fighter II: The New Challengers - $7.99
Twelve characters can get pretty boring pretty fast, so Super Street Fighter II upped the ante with four new ones. With some new locations, and improved graphics, this is a definite improvement over the original formula and another contender for best version of Street Fighter II on the SNES.