Hackin', slashin', shootin' and more!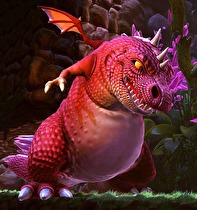 Some weeks it really pays to be a Nintendo gamer. This week is definitely one of them. Between Dungeons & Dragons: Chronicles of Mystara finally coming to the Wii U and the oddly intriguing Giana Sisters, I'm going to have my hands full. And when I'm done with both of those, I can unwind with a cold drink and some RECCA.
3DS eShop Games
You guy's remember Boulder Dash, right? Yeah, neither do I, but it looks to be a slew of block-pushing puzzles in which you…push blocks! With over 100 levels and a whopping five game modes, you'll be pushing blocks until your thumbs go numb.
For those of you who love playing darts, but hate the smoky, alcohol-riddled environments that dartboards usually live in, there's finally a solution. Just be sure that you don't get carried away and throw actual darts at your 3DS. That would be bad.
3DS Virtual Console Games
Summer Carnival '92 RECCA - $4.99
The first time I heard that a game called "Summer Carnival" was coming to the Virtual Console, my first thought "Oh, great, another carnival-themed party game." Boy was I wrong. This is some pretty rad looking shmup action! Originally made for a game competition—hence the strange name—this game, by all accounts, features some of the best space shooter action this side of Gradius.
Wii U eShop Games
Dungeons & Dragons: Chronicles of Mystara - $14.99
Another gem that the Wii U was promised has been, finally, delivered. The Mystara games are pretty much the pinnacle of '90s beat-'em-ups out of Capcom, and any fans of the genre would do well to pick them up. Branching paths, online co-op, and plenty of fun house rules make this one heck of a package.
Giana Sisters: Twisted Dreams - $14.99
Plumbers are so three decades ago (wow, I just made myself feel old), it's time to put the brothers aside and give someone else a chance to shine! Giana Sisters have some retro roots, and they've been given new life thanks to Kickstarter. I'll admit that I don't know a whole lot about the game, but if these luscious graphics are any indication, it's going to be good.
Spot The Differences: Party! - $5.00
There's not much to say about this game other than it is, technically, a game. You, and preferably three other people you've coerced into your house, can sit and look for the differences between to seemingly identical pictures in an effort to spot differences. You'll probably want to bring beer.
Wii U Virtual Console
Magic, intrigue, dragons, you know the drill by now. The Breath of Fire series never caught the world by storm the way Final Fantasy did, but it's always been a relatively solid franchise. If you're looking for some more RPG action on your Wii U, this might be right up your alley.
DSiWare
Jewel Adventures - $4.99/500 points
Adding to the pile of games I haven't heard of before today is Jewel Adventures, which looks a little bit like Puzzle Quest. Okay, maybe more than a little bit. Either way it's got 250 levels of match-three gameplay for you to tackle.