Arm-flapping dancing and hardcore street brawling collide.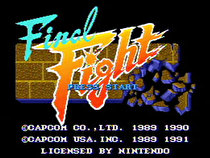 There's a Virtual Console on 3DS? Well, you certainly wouldn't know it by looking at the last couple of Nintendo Downloads! We are, however, graced with the next entry in the Just Dance series, as well all three Final Fight games. So, burn off some extra calories dancing, then flop down on the couch for a snack-filled marathon of Final Fight. Seriously, those Mad Gear guys have it coming. What a bunch of jerks.
Wii U Retail Downloads
3DS Retail Downloads
Rhythm Thief & the Emperor's Treasure - $19.99
Wii U eShop Sales
Buy any Final Fight game on Wii U, get 50% off the purchase of select other fighting games until 9 a.m., October 10.
Little Inferno - $7.49, until 9 a.m., October 9
3DS eShop Games
More Picross! 150 new puzzles built to tantalize the drooling Picross fans out there. What more do you want from me? It's Picross! Woo!
Run those dumb, sad circuses out of town; it's time for Happy Circus! This is the happiest circus I've ever seen! It's educational and has a monkey in it. Need I say more?
Last week we saw a family destroyed over table tennis, this week they're back with Family Bowling 3D. Forge new pathways to relationship destruction by decimating your family members emotionally by crushing their spirits in the ancient sport of bowling.
Halloween: Trick or Treat 2 - $7.99
As far as I can tell this game simulates the act of trick or treating by following "the guys" as they embark on spooky adventures. So, if you're like me and that ninja costume from when you were ten finally ripped and you're stuck at home this Halloween, then Halloween: Trick or Treat 2 is here to help.
Wii U eShop Games
TNT Racers - Nitro Machines Edition - $7.99
This version of TNT Racers packs in some extra content such as cars, tracks, game modes, and explosions. Well, I made that last one up. I do, naturally assume there already are explosions in a game called TNT Racers.
Wii U Virtual Console
Do you still not know what a "Mad Gear" is? Are you always puzzled by those extra characters that you find in your Street Fighter games? Well then this is the place to start. Go back to the beginning in Final Fight, beat some dudes up and educate yourself.
This was the first entry in the series on SNES that supported simultaneous multiplayer, and, thus, was also the first entry that many people cared to play. Dropkick some punks in the face solo or with a friend.
You've defeated Mad Gear and saved Metro City twice now. So what's a mayor to do after he spent his entire term wailing on street trash? Find more street trash, that's what! Look out, Skull Cross Gang, Haggar is looking for you.
DSiWare
Jewel Quest 5 - The Sleeping Star - $7.99, 800 Points
Another game about moving shiny jewels around is here to whisk you away. Join the illustrious Percy Pack as he wanders around looking for some star or something. Your top screen will show stunning visuals from around the world that you'll never notice as you meticulously pluck away at the puzzle game filling the bottom screen.
3DS Demos