Pokémon finally rumbles its way to the Wii U.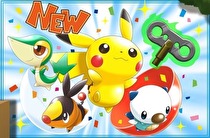 Another week, another download. This time around the titles are few, but they are most certainly quality. I can't speak to Pokémon Rumble U, but every other game you'll see badly summarized below is definitely worth your hard earned coins! Plus, Rayman Legends finally decided to show its ugly mug on the Wii U, but I just can't stay mad at a game that's so happy. Seriously, practically every single creature in the game is singing and dancing.
3DS eShop Sales
Bit.Trip Saga - $4.99 until 9am PT, September 15
Wii U Retail Games
Rayman Legends - $59.99, Available September 3
3DS Virtual Console
Oh, what a treat this is! Get ready to take the reigns of the black sheep of the Super Mario franchise in yet another quest for greed and glory. The Wario Land series has had its ups and down, and this is most certainly one of the high points.
Wii U eShop Games
Shake, rattle, and roll your way to victory with this weird mash-up of that football game your grandpa had and the tiny, collectible monsters that you just can't get enough of! All 649 Pokémon make an appearance in this title, which means that it's time to collect 'em all, all over again.
Wii U Virtual Console
Some games just never die, and with good reason. The Legend of Zelda, the most classic of classic NES adventure games, is making its appearance on the Wii U Virtual Console. Do we all probably already own it a thousand times over? Yes. Is it still one of the best ways to kill an afternoon? Of course!