Spelunking and golden greed go well together, wouldn't you agree?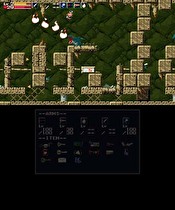 Platforming is alive and well on the eShop this week, with Cave Story, Samurai G, and New Super Mario Bros. 2 Add-On content available for purchase. While not available until Sunday, Pokémon Dream Radar hits the eShop as well, bringing Pokémon from White and Black Version 2 into your living room! Also be sure to check out what is available on the DSiWare and WiiWare services.
3DS eShop Games:
Cave Story - $9.99
Going on its fourth iteration on Nintendo hardware, Nicalis has delivered what our own Neal Ronaghan has deemed the definitive version of this Metroid-inspired platformer. Guide Quote through a hostile environment, in hopes of unravelling the mystery of just who you are and what you're fighting for. That and blast creatures to death in a stunning 2D aesthetic.
New Super Mario Bros. 2 – Add-On Content – $2.50 per pack
Hope you're feeling greedy, as this set of Downloadable Add-On Content for NSMB2 hopes to satiate your Coin Rush needs. The set is sold as three individual packs, Gold Rush Pack ($2.50), Coin Challenge Pack A ($2.50), and Nerve-Wrack Pack ($2.50). Each pack brings a different experience, so be sure to read Danny Biven's impressions to find which packs are right for you.
Samurai G - $1.99
Mario isn't the only one hungry for gold, as Tetsuo attempts to stake his claim among the rich and famous. A game of the constant runner variety (think Bit.Trip.Runner), you are tasked with collecting coins and cuttin' groins (any body part will suffice though). Our review will be up later today.
Style Savvy: Trendsetters (Fashion Contest Demo) - Free
It's time to embrace your inner fashionista, folks. Dress your model in the appropriate attire, cut her hair, and let her do her "thang" on the runway. You could be the next Tommy Hilfiger! Think of how awesome that may be!
3DS Virtual Console Games:
Dr. Mario (Game Boy) - $3.99
"Hey, Grey-ish Virus," Mario shouted into the jar, "take one of these and DON'T call me in the morning." Guide Mario's hand in this Game Boy puzzler, lining up a swarm of viruses with color coded pills to wipe them off the face of the Earth. Pill popping never felt so good (or legal).
DSiWare Games:
Academy: Chess Puzzles - $1.99
Whether a novice or master of chess, Academy: Chess Puzzles will have plenty for you to do. The game features 750 puzzles across three different difficulty levels as well as achievements and other unlockables.
WiiWare Games:
Drop Zone: Under Fire - 500 Wii Points
Dive off great heights as you free fall towards your target at high speeds while avoiding the obstacles placed in your way. It is your job to help save the Earth from the invading alien robots in the games 100+ levels.
3DS eShop Games Coming Later This Week:
Pokemon Dream Radar - $2.99
Use your 3DS as a tool to peer into the realm of the Interdream, a space that exists between the dream world and our own. Pokemon freely move about in your surroundings (through augmented reality, of course) and you must capture them! Why? To export into your copy of Pokemon Black or White Version 2! Check out Alex's review for more details.