Nicalis's DSiWare version absent in advance of Thursday's eShop release.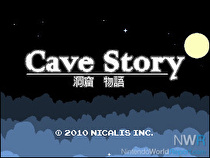 The DSi version of Cave Story has been removed from the eShop in advance of the release of the upgraded eShop version coming this Thursday.
When announcing Cave Story's eShop port, Nicalis told Nintendo Power that they may remove the DSiWare version from the 3DS eShop.
The original date it was taken down is unknown, but a search on the eShop reveals only the upcoming remake, and the retail release of Cave Story 3D. Cave Story is still available for purchase on DSi's through the DSi Shop for 1000 Nintendo Points, equal to what Nicalis is charging for the upcoming eShop version.
The eShop-specific Cave Story is an enhancement on what was presented in the DSiWare version, which is likely the reason behind its removal.