Also, Nintendo is releasing a second Style Savvy demo that will transfer the progress into the full game.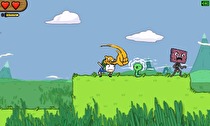 Adventure Time: Hey Ice King! Why'd you steal our garbage?!!, Epic Mickey: Power of Illusion, Style Savvy: Trendstters, and more are getting 3DS eShop demos soon, according to Nintendo of America.
Style Savvy saw the first of its demos launch today, which focuses on creating outfits for a fashion contest. The second demo hits November 1 and will let players go online to check out what other players have created. Your progress in the demo version can be transferred to the full game. Style Savvy: Trendsetters launches on October 22.
Other demos hitting the eShop soon are:
Adventure Time: Hey Ice King! Why'd you steal our garbage?!!
Disney Epic Mickey: Power of Illusion
LEGO The Lord of the Rings
Moshi Monsters: Moshlings Theme Park
Sonic & All-Stars Racing Transformed