The NWR staff got together to vote, argue, and fight over several 2017 awards.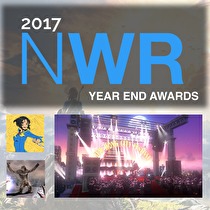 Late one night in December the NWR staff came together as a big family to discuss the 2017 End of the Year Awards. However, like many families, the discussion on who would be the ultimate award winners turned into a friendly passion filled argument. With so many members on the staff it's not easy to make it to the top as opinions between us can vary greatly.
With that said, the dust settled and winners were eventually chosen. Today, we are happy to present to you the top three winners in a number of categories for our 2017 Award Feature.
Those with keen eyes will notice we don't list our games of the year here, as this year we are determining those in a currently ongoing tournament that you, the readers, can help vote in.
Overall, 2017 was a heck of a year for Nintendo and we are excited to see what everyone thinks about our choices in the Talkback thread below.