This month we went back to a time when manuals were the norm.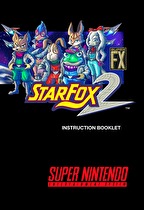 This month we pay homage to Star Fox 2 with a collaboration between John Rairdin and David Lloyd. The manual is based on the original SNES manuals, and features a John Rairdin original Great Fox illustration.
We have a PDF version that's perfect for your phone, as well as jpg's in case you would like to print a copy for yourself.
For anyone looking for assistance printing a physical copy please contact David Lloyd, either at his twitter account @filteredgamer or via email at davidl@nintendoworldreport.com, and he will be happy to help.

David has also posted a how to video on his YouTube Channel:
If you print a copy we would love to see it, send us a picture or post on Twitter and tag @Nintendo_NWR. 
If you can't wait for next month's manual join us on Patreon to get immediate access.
The next manual on its way will be for Ironcast, a terrific Nindie title from Ripstone.