The honors for the first custom NWR-Made manual goes to...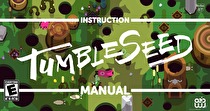 This month's manual for download is for the game TumbleSeed.
You can download here.
All Patreon members receive advance access to the PDF through the Patreon site and if you're in a high enough tier we will even mail you a physical copy.
We love being able to bring you unique and exciting content, please consider contributing to our Patreon so that we can continue to provide you with more benefits and exclusive rewards. Please visit http://www.patreon.com/NWR for more information.
For anyone looking for assistance printing a physical copy please contact me, either on my twitter account @filteredgamer or via email at davidl@nintendoworldreport.com, and I will be happy to help.
We thank you for your contributions and sincerely hope you enjoy the manual.