What do this podcast and Miitomo have in common? They're both hot in Japan of course!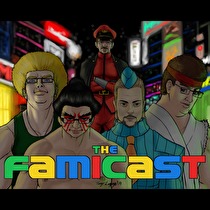 Subscribe via iTunes (Please rate and review, too!)
Yōkoso and welcome to another special episode of the Famicast – your bimonthly look into the world of Japanese gaming from the perspective of a bunch of foreigners! This episode was recorded live, so you can check out the video edition below.
In New Business we have an extended discussion on Nintendo's new excursion into mobile apps as most of the Famicast Crew try out the currently Japan exclusive Miitomo. Of course Ty is having none of that and instead talks about Japan finally getting a release of DOOM! No, not that one.
In current news we take a quick look back at the recent Nintendo Direct since we managed to uh, completely forget to talk about most of the interesting Japanese releases finally making their way to the West in our previous episode. We also weigh in on Amazon.co.jp's recent move to allowing international shipping on games, the fate of the WiiU and a mid-show news drop about Pokemon GO.
As usual we also go through this weeks sales charts to see what's hot in Japan, and what's not. (Spoilers: it's the Xbox One).
We have a special Life in Japan segment to round out the show too, where we talk about Japan's famous customer service. We have plenty of stories about this, both good and bad, so it's a fun ride!
This podcast was edited by Danny Bivens.
Music for this episode of The Famicast is used with permission from 8 Bit Weapon. You can purchase their music and shirts from their website 8bitweapon.com
Additional music for this episode of The Famicast is copyrighted to Nintendo, and is included under fair use protection.
The artwork for the show was designed by Tony Losoya, follow him on Twitter @Tony_Losoya