The Famicast turns five years old! Come and celebrate with the Famicrew with this special episode!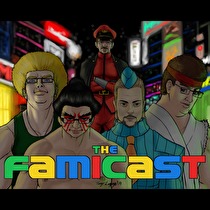 Subscribe via iTunes (Please rate and review, too!)
Some said it couldn't be done, but The Famicast turns five years old with this 75th episode! Join us for this wooden anniversary (Yes, really. Look it up.) as we celebrate those five years with with a look back and a look forward for all things Nintendo in Japan!
To start off we get into our new business as usual. Danny and Sairus catch up on some Mario and Pokémon while Ty brushes up on his bibles with Devil World and James surprises us with a mystery game! There is also a special Famicrew alumni jumping in for a quick chat too. Who could it be?
Just after our last show, there was a deluge of announcements from the most recent Nintendo Direct, so we catch up on and dissect the differences between the Japanese and Western shows. Are you excited by all the "new" SNES titles being released on the (New) 3DS Virtual Console? Most of the Famicast crew have some choice thoughts on Nintendo's crossbuy policy for them! There was also plenty of Japan centric news this week, from more updates on Wii U shortages to a Nintendo theme-park going into development in Osaka(!).
Just before we recorded there was a surprise announcement of a new Pokemon game coming to Smartphones called Ko Master. There's not much known about the title yet, but if you want to get a potential scoop on how the game might play, check out this article from Nintendo World Report from waaay back in 2007!
The Famicast is not the only thing turning five this year, and so James' son features as a special guest running his own "Guess That Amiibo" segment! After we've deciphered his clues we check out some reader questions before signing out!
It's a packed show, so get yourself comfortable!
This podcast was edited by Danny Bivens.
Music for this episode of The Famicast is used with permission from 8 Bit Weapon. You can purchase their music and shirts from their website 8bitweapon.com
Additional music for this episode of The Famicast is copyrighted to Nintendo, and is included under fair use protection.
The artwork for the show was designed by Tony Losoya, follow him on Twitter @Tony_Losoya