It hits some of the tennets of a main Pokémon game.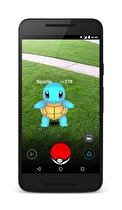 Some new details about the upcoming Pokémon Go game have been announced.
The Pokémon will be found in specific areas - Water types in lakes, Grass types in forests - and finding the same Pokémon multiple times will trigger evolution. There will also be PokéStops which will hand out Eggs, and various amounts of steps will be required to hatch them just as in the portable console games.
Much like its predecessor Ingress, Pokémon Go will feature teams - though three of them - and the Pok♪0mon will be assigned to Gyms for combat. Each Gym will support one Pokémon per player.
No release date has been announced, though a beta has been announced for Japan.