A heavily reduced Famicrew look back on the very best....and worst.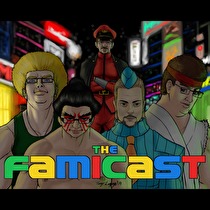 Subscribe via iTunes (Please rate and review, too!)
Danny and Sairus take the week off, leaving James and Ty free to completely ruin the podcast. Hide the Doritos and Mountain Dew because we go MAJOR LEAGUE this week!
Ty talks about a Japanese KI tournament, and a new (!) set of Doom levels made by Japanese fans. James gets to the heart of Miitomo trolling - Miitrollolling? Also, Captain Toad! Then, we talk about Mario Maker levels both made manifest, and those that live only in abstraction. Far out.
In the news, we answer the question - "What if Zelda was a girl?" Also, we watch the new Ace Attorney anime. Or not. But you can! Listen in to find out that you can watch them for free on Crunchyroll.
Then, a very special extra-authentic breakdown of Japanese sales charts. We go right to the source and painfully sound out the title of each new Yokai Watch crossover game and Vita exploding-clothes simulators.
And, finally, we re-review NWR's 10-point reviews throughout history. Do we agree with them still? Did we ever? The answers may arouse you.
This podcast was edited by James Charlton.
Music for this episode of The Famicast is used with permission from 8 Bit Weapon. You can purchase their music and shirts from their website 8bitweapon.com
Additional music for this episode of The Famicast is copyrighted to Nintendo, and is included under fair use protection.
The artwork for the show was designed by Tony Losoya, follow him on Twitter @Tony_Losoya