Europe will be musou-ing the night away for most of the year.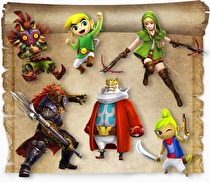 Nintendo's European website has announced details on how the Hyrule Warriors Legends season pass will work for both Wii U and 3DS..
Launch day (24 March in Europe, March 25 in North America) will see the 3DS season pass go on sale, as well as a 3DS and Wii U season pass. This pass includes:
A Master Wind Waker pack in late spring (Adventure mode map) + Medli for all 3DS/Wii U owners
A Link's Awakening Pack in summer (Adventure mode map, new character, Linkle weapon
A Phanton Hourglass/Spirit Tracks pack in autumn (Adventure mode map, new character, Toon Link weapon)
A Link Between Worlds pack in winter (Adventure mode map, two playable characters)
All packs include My Fairy costume parts as well.
The Wii U version will be able to buy the Legends characters along with the season pass (less the Adventure mode maps) in seperate packs that will be made available this summer. The Legends Characters Pack for Wii U will be €11.99/£10.79, the season pass for Wii U will be €9.99/£8.99, the 3DS pass will be €14.99/£13.49 and the 3DS+Wii U combo pack €16.99/£15.29.