Gui plays a first-person shooter, on GameCube! Plus, your emails include the final Club Nintendo Elite rewards, Smash balloting, obscure rock band adventures, and Splatoon's voiceless online modes.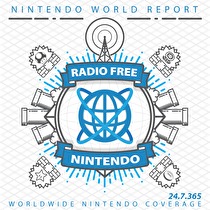 Subscribe via iTunes (Please rate and review, too!)
It's time for another cartoo-oo-oon! Jon is back with both a vengeance and his thoughts on Axiom Verge -- good to hear from another satisfied Metroid fan. Guillaume makes good on a dare by playing a first-person shooter, on GameCube no less! But it's Geist, and as you may recall from our (pre-Gui) two ancient RetroActive discussions, that game is a fascinating mess. Jonny checks in on Elliot Quest, finishes Majora's Mask 3D (Oni-less), and returns to Box Boy for a more substantial look. All in all, this is a weird bunch of games for New Business, and James completes the set with Inazuma Eleven for DS... I mean, 3DS.
We're still lagging on the deluge of emails coming in since Nintendo decided to make the spring season interesting. Thanks for your patience -- more to come! But we did manage to address the last-ever Club Nintendo gold and platinum rewards, our picks for the Smash Bros. fighter ballot, a flight of fancy into gamifying some favorite rock bands, and that old chestnut of Nintendo skipping voice chat in a major online game (Splatoon, this time around). Please do keep sending those emails, which we love and cherish!
It's still a ways out, but with a game as big as Twilight Princess, this isn't too early to start playing along for RetroActive. As your thoughts and questions form, why not deposit them in our convenient forum thread for future podcast discussion? Yes, just like that.
Oooh, one last thing! Did you know that RFN has a team in the ongoing Smash Bros. online tournament, where we face off weekly against our Nintendo World Report friends? It's very dramatic and hella entertaining, especially with audio commentary from Scott and Neal to help explain every match. Check out the first few rounds, and keep up with the latest results on our NWR TV channel!
This episode was edited by Guillaume Veillette. The "Men of Leisure" theme song was produced exclusively for Radio Free Nintendo by Perry Burkum. Hear more at Bluffs Custom Music.