Karnov is here to hurt people.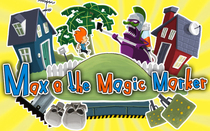 It's the last Nintendo Downloads of 2010, and the year is going out with a bang. This week we have two WiiWare releases, one WiiWare Demo, two NEO-GEO Virtual Console releases, and three DSiWare releases.

The first WiiWare title is chick chick BOOM, which turns the statement about ending the year "with a bang" into a terrible pun. In this game from tons of bits, you throw items (like pianos, elephants, and jellyfish) at your opponent, who has to block them by drawing lines. There's also a corncob and a piñata who'll help. You can throw stuff with them for 800 Wii Points ($8).
The second WiiWare title is Around the World, from Wizarbox. It's a geography quiz game with mini-games added for good measure. You can play it with friends and family, and if you've spent too much time with an atlas you'll finally have something to show for it. The opportunity to brag about your knowledge of East African national capitals is yours for 500 Wii Points ($5).
Press Play's Max and the Magic Marker has a demo added to the WiiWare service this week. It's a physics based platformer where you draw items that interact with the world to solve puzzles. It's yours for 0 Wii Points (free).
The first Virtual Console title is Fighter's History Dynamite, which was originally released for the NEOGEO. As the title suggests, it is a fighting game, however, it actually contains no dynamite. In Fighter's History Dynamite you compete in The Great Grapple, a martial arts tournament that pits 13 of the world's best fighters against each other. A sequel to Fighter's History, Dynamite lets you play as the predecessor's bosses, Karnov (of Karnov fame) and Clown (of clowning fame). All this grappling is available for 900 Wii Points ($9).
The other Virtual Console title this week is also from NEOGEO. In Magical Drop III you control a clown (presumably not of Fighter's History Dynamite fame) as he throws colored water balloons at other colored water balloons. Match colors and the balloons pop. Nothing new here, except the ESRB has rated this game T for Teen and lists "Mild Suggestive Themes" as the rational. You'll have to drop 900 Wii Points ($9) to see what all that's about.
Our first DSiWare title is G.G Series Z•ONE, from Genterprise Inc. It is a side-scrolling shooter where you're tasked with breaching enemy emplacements. These block-based structures can be destroyed with pods that shoot in eight directions. The game's description lists features such as "multiple levels," "varying difficulty," and the ability to learn "advanced shooting skills" such as "shooting backwards." You can shoot backwards too for 200 DSi Points ($2).
Our second DSiWare title is DodoGo! Challenge, from Neko Entertainment. The sequel to DodoGo!, you have to rescue endangered eggs spread across nearly 100 levels. Environmental puzzles need to be solved in order to escort the eggs to the safety of the basket. This eggventure can be had for 500 DSi Points ($5).

Our final DSiWare title is Fantasy Slots: Adventure Slots and Games, from Big John Games. If the title seems familiar that is because there was a game with the same name released on WiiWare back in the summer. Players have access to various forms of "simulated gambling" (ESRB), and can use their simulated winnings to buy and decorate simulated hotel suites in a simulated casino. This simulated experience can be yours for 500 non-simulated DSi Points ($5).