Our Game of the Year is...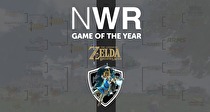 While it was fate that our inaugural Tournament of GOTY came down to The Legend of Zelda: Breath of the Wild vs. Super Mario Odyssey, the winning game wasn't necessarily predetermined. However, the voters spoke clearly, and by a count of 75% to 25%, The Legend of Zelda: Breath of the Wild won the tournament and is the 2017 Nintendo World Report Game of the Year.
2017, in general, was a fantastic year of gaming. Truly a great way to kick off the life of the Switch. In the sea of good and interesting games, Breath of the Wild stood tall as a beloved work. The Zelda series is now reinvented. Let's see what 2018 brings in terms of games. In the meantime, most of us probably have more Zelda to still play...