Sixteen will enter the Thunderdome, only eight will walk out.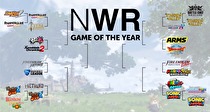 With the Wild Card Round done, it's time to get to the meatier portion of the tourney, where favorites such as Breath of the Wild and Super Mario Odyssey join the fray.
But first, a recap of the Wild Card Round. SteamWorld Dig 2 beat Blossom Tales 86% to 14%. Stardew Valley triumphed over Battle Chef Brigade 76% to 24%. Snipperclips beat Star Fox 68% to 32%. Our closest matchup was Sonic Mania beating Puyo Puyo Tetris 65% to 35%.

Will we see any upsets in the next round? Who knows! Vote to let the world know your hot takes.
Snipperclips (Nintendo/SFB Games; March 3) vs. The Legend of Zelda: Breath of the Wild (Nintendo; March 3)
Xenoblade Chronicles (Nintendo/Monolith; December 1) vs. Splatoon 2 (Nintendo; July 21)
SteamWorld Dig 2 (Image & Form; September 21) vs. Metroid: Samus Returns (Nintendo; September 15)
Fire Emblem: Heroes (Nintendo; February 2) vs. Rocket League (Psyonix Games; November 14)
Sonic Mania (Sega/PagodaWest Games/Headcannon; August 15) vs. Super Mario Odyssey (Nintendo, October 27)
Fire Emblem: Shadows of Valentia (Nintendo/Intelligent Systems; April 20) vs. Mario + Rabbids: Kingdom Battle (Ubisoft; August 29)
Stardew Valley (Chucklefish/Concerned Ape; October 5) vs. Mario Kart 8 Deluxe (Nintendo; April 28)
Arms (Nintendo; June 16) vs. Dragon Quest VIII (Nintendo/Square Enix; January 20)