With two clear favorites, will we see an upset in the finals?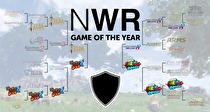 Here we go - we're down to the Final Four! In all likelihood, this is building towards the inevitable battle between Zelda: Breath of the Wild and Super Mario Odyssey, but it's super cool SteamWorld Dig 2 made it this far and Mario Kart 8 Deluxe is neat. Let's recap the last round before we get to that, though.
Breath of the Wild beat Xenoblade Chronicles 2 76% to 24%. Xenoblade 2 had a good run, taking down Splatoon 2 along the way. In all likelihood, that game's star should only brighten as time goes on.
SteamWorld Dig 2 beat Rocket League 66% to 34%, a somewhat stunning trouncing from Image & Form's beloved Nindie. Dig 2 enters the Final Four as the only remaining third-party game.
Super Mario Odyssey had the highest margin of victory, beating Mario + Rabbids: Kingdom Battle 87% to 13%, making Odyssey the odds-on favorite to win this whole thing. Not even the stunning quality of a Ubisoft/Nintendo collaboration could slow down Odyssey's dominance.
While the way the bracket fell helped prop these two games up in this spot, it's still impressive Arms made it this far and still, Mario Kart 8 Deluxe beat it quite handily to the tune of 63% to 37% - the closest of this round.

The Legend of Zelda: Breath of the Wild (Nintendo; March 3) vs. SteamWorld Dig 2 (Image & Form; September 21)
Super Mario Odyssey (Nintendo, October 27) vs. Mario Kart 8 Deluxe (Nintendo; April 28)