Evil returns to Nintendo's home console.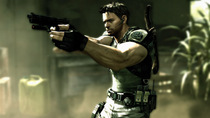 Starting with Café first:
Project Café will be launching with a brand new Pikmin title, ending my own personal five-year hunger strike. In addition, Capcom will be fully on board with a brand new Resident Evil title. It won't be RE 6, but rather a Code Veronica style spin-off with gorgeous RE 5-style graphics.
While the controllers might have a touch screen, I find it much more likely that the size of the touch screen, if it exists at all, will be likely iPhone in size, not iPad. While the controller will contain some of the inherent functionality of the Wii Remote, such as the pointer, it will be more familiar to long time gamers.
Moving into the past with Wii:
Zelda: Skyward Sword will be launching this holiday season. The game will be demoed at the press conference, but in a video from off-stage. We will also see a new trailer for Dragon Quest X, which will be announced for a spring 2012 release. The game will feature some form of online multiplayer.
The swan song for Wii will be a sequel to Wii Sports Resort, launching summer 2012. The game will represent one last chance for Nintendo to capitalize on the success of the Wii brand before retiring it for the sake of Café.
The handheld world:
There will be little to no mention of the classic DS brand, aside from to mention how strong of a brand it has been for them in the past. 3DSWare will be given a formal launch, along with a strong first party title. My prediction for that title is Mario Paint. Players will be able to animate their own creations in 3D.
The major release for 3DS will be Mario Kart, coming in November 2011, just in time for Black Friday. The game will, of course, feature four-player online multiplayer. In addition, the tournaments that the Wii version has had running ever since the game came out will accompany the 3DS version as well.
All in all, I predict that it will be a fun year for Nintendo at E3. Some known quantities, some surprising revelations, and one or two shockers; just the way I like it.