Short answer: They kind of looked stretched out and weird, or very tiny.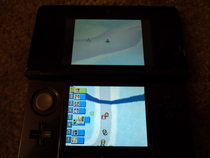 We've known for a long time that the 3DS was going to be backwards compatible with the DS, and now that the system is nearly out, we know the extent of the backwards compatibility. First off, obviously games that used the Game Boy Advance slot, such as the Guitar Hero games, won't work with it. Also, the Circle Pad can be used with every game, and while it doesn't change anything about the game, it makes some games, chiefly Super Mario 64 DS and other 3D games, easier to control. That's good that it works with DS games, too, because the tiny D-pad isn't ideal.
Other than that, the key aspect that needs to be known about DS games on the 3DS is that the aspect ratio of the bottom screen is different, so the games are stretched out to fit the bottom screen. Since the top screen of the 3DS is wider, it only fills up the same amount of space as the bottom. This change makes games look just a little off in the same manner that Game Boy games looked weird stretched out on the Game Boy Advance, though not nearly as bad. Everything's functional, though, including touch screen-heavy games such as Elite Beat Agents.
You can, if you wish, hold the Start and Select buttons while selecting the game from the 3DS menu to have it display in the correct aspect ratio. However, it's so tiny that it just feels weird. Also, because of the small display, using the touch screen is weird, as nearly half of it isn't used.
If you're a purist, You might as well just stick with your old DS system to play those games. However, for most people, the stretched out DS games shouldn't be that much of an issue.