Power A and PDP sent us some 3DS cases. What are they like and how do they look?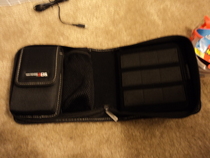 Power A and PDP both sent us cases on around the same day, which seemed fortuitous. So, we rounded all of them up, snapped some pictures, and we're going to show you what they're all about.
First off, it is worth noting that most of these 3DS cases all work with DSis and DS Lites, and your DSi/DS Lite cases should hold your 3DS. So, even if you're trading in your old, antiquated DS unit, you should keep around your cases as they'll likely be reusable. Now, let's get to the cases.
This is the lone PDP-made case, called the Pull & Go Folio. The nifty thing about this is that you remove the section that holds the 3DS, thus making it an even more portable case. The case also features 29 places to put your game cards (30 if you included the system itself), and a nice pouch to put in a charger. It retails for $17.99.
This is the Mini Elite Transporter case from Power A. Offering solid protection of the system, it also has spots for 12 games. While it's a little bulky, it features a lot of storage. However, compared to the MSRP of the Pull & Go, the price of this case ($16.99), seems pretty high.
The Executive Case has a silly name, making it seem like CEOs of companies will stealthily carry their 3DSes in this. The case is really nice. It's small, but durable, and snugly holds two games and a stylus. It retails for $19.99, which is pretty high for what you can hold in it, but it is arguably the most durable and portable case Power A is releasing at the system's launch.
The Expedition Case looks like it's hardcore and durable, but it doesn't seem to offer that much protection. The ridiculous-looking exterior is really flimsy. Retailing for $14.99, it can hold six games, which is cool, but I just don't like the look or durability of this case.
The Power A Explorer Starter Kit comes with a variety of accessories, including a nice hard case that can hold three games. It also comes with a car charger, a pair of surprisingly nice ear buds, two replacement styli, and a cleaning cloth. For $29.99, it's a pretty solid value, especially considering that each item would add up to considerably more if you bought them separately.
The Elite Transporter case is the Cadillac of 3DS game cases, fitting 40 games, numerous accessories, and the system. Screw portability; you could just toss 40 games in here and save space. Even still, it's easy to transport, and it has a long strap so you can wear it over your shoulder. It retails for $24.99.
Power A and PDP have historically made quality cases, and the assortment of cases available at the launch of the 3DS are great.