If you've ever wanted a visualizer that looks like Excitebike, you're in luck.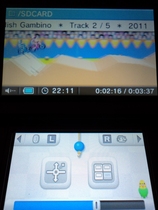 The Nintendo 3DS Sound application serves two functions. The first is to offer you a way to record and edit short sounds, giving you many simple tools so you can manipulate and play with them. The second is to give you a way to playback MP3s and AAC files. So, theoretically, you can listen to Radio Free Nintendo, NWR Newscast, or Radio Trivia Podcast Edition on your 3DS (or your DSi).
I'll confess now. I didn't spend that much time with the DSi Sound application. I recorded my voice one time, and played with it a little bit. So, savvy DSi users, please forgive me if I mislabel the newness of something.
From my viewpoint, this seems to be the aspect of the 3DS that has received the least change from the DSi iteration. The two main sections remain the same, and all the 3DS does is give it a new coat of paint and some StreetPass functionality.
Recording and editing sounds is virtually the same. You can change the pitch and speed of the sound, as well as put on humorous filters such as parakeet or electric fan.
The audio playback is somewhat cooler, chiefly because the visualizer is in 3D. The visualizer also has some awesome touches. One visualizer has an Excitebike theme, one is reminiscent of Super Nintendo Star Fox, and one resembles a Game and Watch game. You can even interact with the visualizers. For example, you can shoot away blocks in the Star Fox-esque one.
Unfortunately, there is little point to this application. It's doesn't have the redeeming picture-taking quality of the photo application, and the idea of using your 3DS as an MP3 player is kind of dumb, especially since it goes into sleep mode when you shut it, meaning it doesn't play any music.