Track your footsteps and your playtime in this new 3DS addition.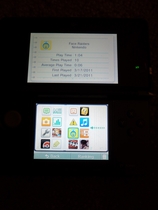 The Activity Log is one of the applications included with the 3DS. It's simple, but intriguing in its own right as it combines a pedometer with a software tracker. Unfortunately, the coolest use of the pedometer doesn't have anything to do with the Activity Log, as you earn Play Coins for every step you take. We'll be getting to the use of Play Coins later in the week, specifically in the StreetPass Mii Plaza.
Other than that, the pedometer is just that: a pedometer. You can view your steps on an hourly, daily, monthly scale. It's a nice feature, but given the bulk of the 3DS and my current inordinate fear of my system's shoulder buttons breaking (thanks DSi!), it's not something I'll always have on me. During my flirtations with Personal Trainer: Walking and the Pokéwalker, I would always keep my pedometer on me. Unfortunately, my 3DS will never be used as a consistent pedometer. I'll just use it a little bit each day to get my allotted Play Coins (you can only gain a maximum of 10 a day).
The software library tracker of the Activity Log has more in common with the Nintendo Channel display on the Wii. You can look at all the games and applications you've used and see how long you've played it, how many times you've opened it, and what your average playtime. It tracks every single application, so that one time you looked at Health and Safety information will be documented forever. Also, in case you're wondering, it tracks DS games as well.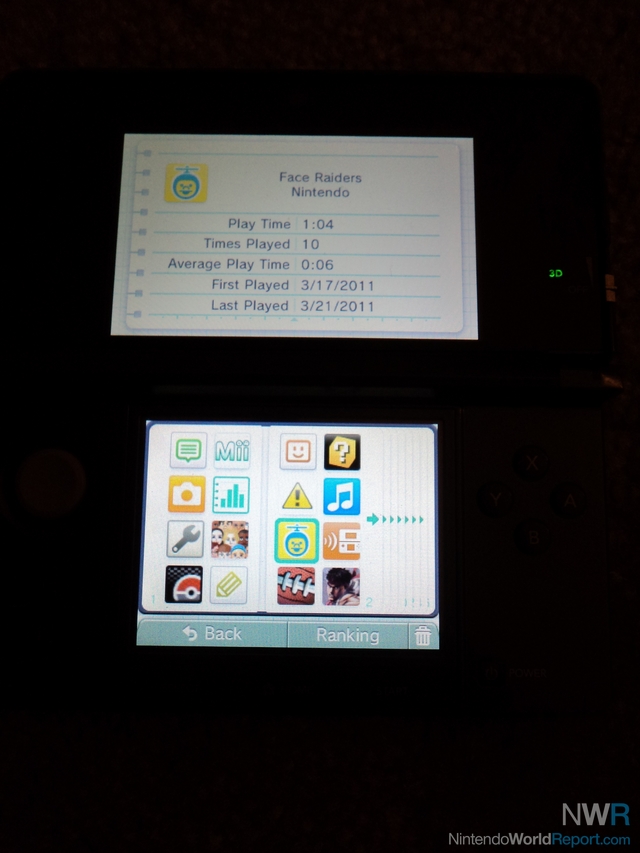 Most players won't spend a lot of time in this, but it's got a nice presentation. It'll definitely be a good source to track whatever games you play, and I'm sure in a few years, it will be fascinating to look at.