Explore more bosses from Frozen North's upcoming release.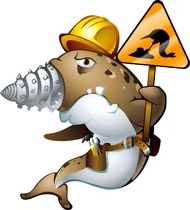 Welcome to "Like a Boss Part 2." In Part 1, we introduced you with the thought process that went into creating The Slug King, Duke the Dragoon, and the Monkey Brothers, bosses of The Void, The Keep, and The Canopy, respectively.
In this second part, we'll be exploring the remaining boss characters in Flip's, as well as some scrapped boss concepts that never made it to the release.




You Know the Drill
The Glacier is a world of ice, snow, and freezing cold waters. We brainstormed different arctic creatures: walruses, polar bears, a fat penguin, etc. We then realized a narwhal-like character (narwhals being a species of whale that possess a horn-like projection from their head) would be interesting. After a few drawings, we came up with tough-guy, construction-and-destruction-working Butch the Narwhal, who ended up looking almost more like a shark/narwhal hybrid, but no matter, it was a strong design. We liked his look and decided to go with it.
Originally, Butch was in the Glacier World's seas cleaning up a chemical spill from a potion sucked in from Master Fulcrum's lab, but when we decided to go in the direction of collecting Chapter Stones, he became a surly porpoise resolute on drilling the ice, searching for an elusive Chapter Stone.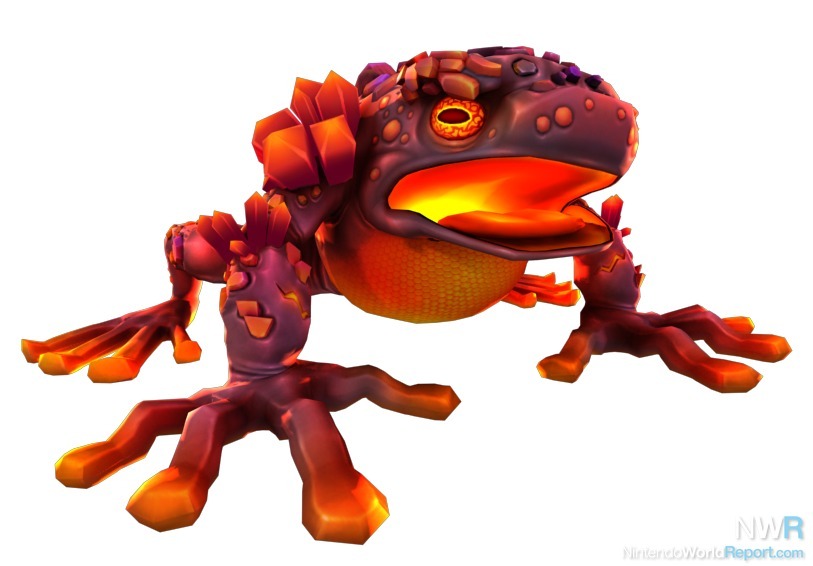 Why Yes, We Do Have Battle Toads!
The concept of Bessie the Magmatoad was a rather random thought, but one of our first while brainstorming boss ideas for the Depths, a cavernous world, with lakes and seas of lava at the bottom. During a brainstorming session, one of our previous employees, Andrew Sturm, shouted out "Magma Toad!" and we thought, hey, that's unique. We imagined a huge beast of a creature, a lava sea monster that the lava pirates feared. For a long time we were going with a more treefrog-like design for this creature, but decided that while it gives her a look of agility, it didn't look right for the scale we had planned for her.
We decided to give her more mass and a more rocky body, as opposed to the smooth look of a treefrog. The Magmatoad also had been given a much more round and bulky form, like toads, that have proportionally large legs and feet, and a round-shaped body.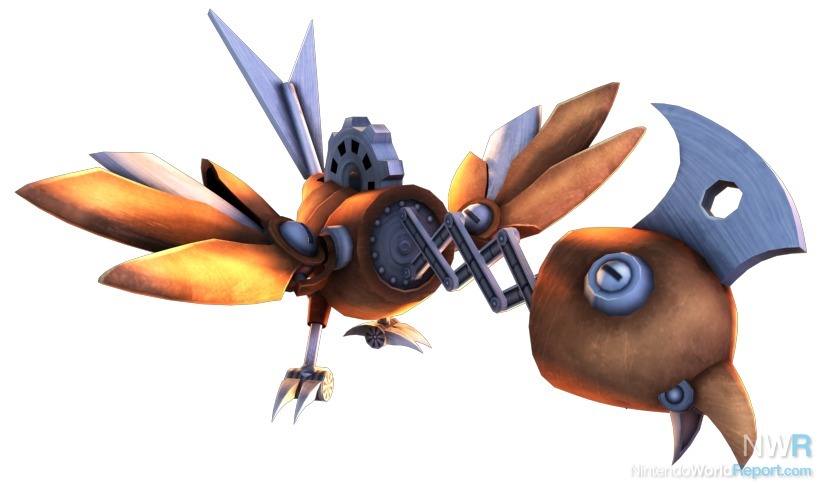 Of Birds and Backronyms
Clacks the Cuckoo was inspired by cuckoo clocks and steampunk clockwork imagery. The Works World is a giant mechanical metropolis inside of a huge clocktower, and in the clock at the top rests the bird, waiting to chirp out when the hour hits.
"Clacks" (or The Chronographic Logger And Conservator Kineto-tool, S-type) is an ancient machine built by The Works' people to protect the clock and record time, and is built with a electrifying defense system. She's developed her own personality over the years, and will not easily part with her shiny treasure, the final Chapter Stone. We hit the type of design we wanted for the Cuckoo early, and few revisions were required.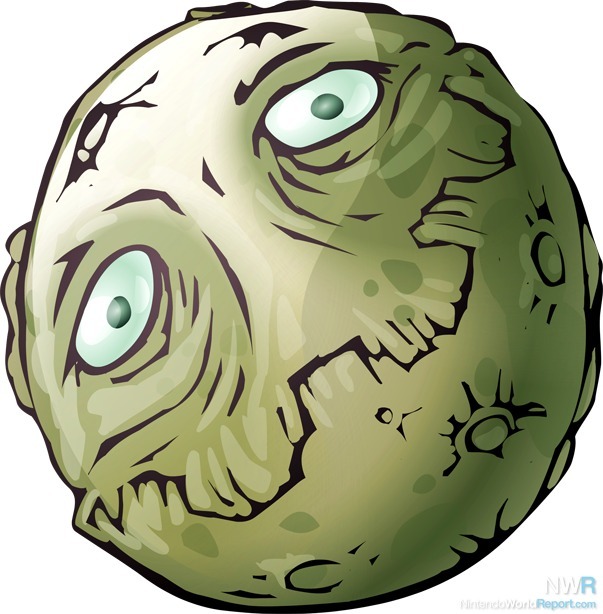 Tale of the Spacey Senior
Ol' Man Craterface is an old eccentric moon boss that was scrapped along with the Sky World from the game. The very first concept for this character had people chuckling, and was pretty much the one we went with. This was a boss we were excited about. We liked the idea of a crazed eccentric satellite living at the top of the Sky, unknowingly having a Chapter Stone stuck in his teeth.
We were planning for him to cough up hazardous fast-flying meteors while Flip tries to knock the Chapter Stone free, but ultimately this astronomical asteroid of a boss, as well as the world that he was planned to be in, was more than we could handle with our team size and timeline. Fortunately, many other elements that were to be featured in the Sky World were incorporated into The Works.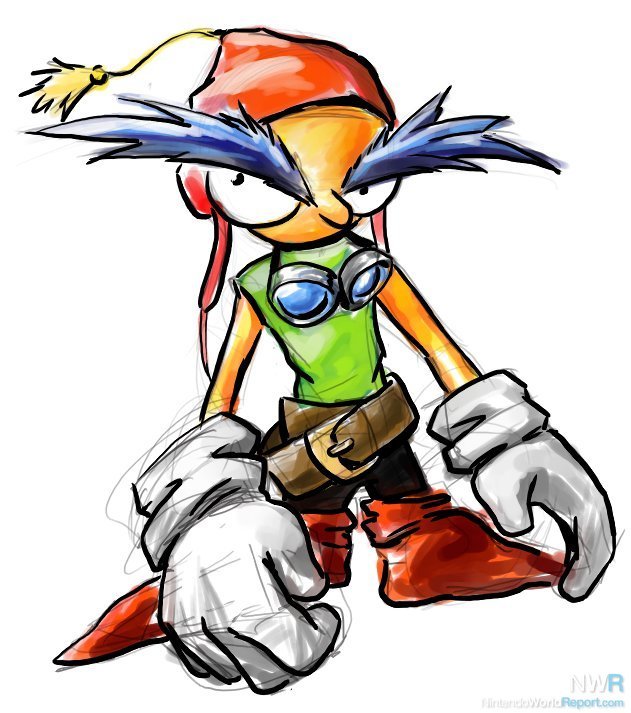 Get Some Tweezers, Dude
Axel began as a chaotic and malevolent character that you encounter throughout the game and eventually get to face off against towards the end of the game, and take some revenge. He's a mischief maker who continuously causes unavoidable setbacks to Flip, playing a role similar to that of Knuckles in Sonic 3.
As we worked on the game we created more of a story for him. Originally, he was known as The Imp, and was simply a mysterious stranger who was frustrated for being trapped in the World Book himself. However, the more we developed the world, the more of a background we gave him. The Chapter Stones were introduced and this large-eyebrowed punk wanted them to abuse their power and instantly become a powerful sorcerer.
Eventually, he came to be a former wizard's apprentice who failed to become a real wizard. He was eventually imprisoned in the World Book for lacking humility in his studies, and terrorizing residents of The World Book to obtain the Stones, as opposed to using the Book and its powers for learning and growing. All the spells he uses to attack and intimidate, he did not learn on his own, but calls upon them from his master's spell book he stole long ago.
Through picking up journal pages in the game, Flip can learn more about Axel's past and the story of the World Book. He'll also reveal a little about his past in an encounter towards the end.


There's a Hole in the Book at the Bottom of the Sea
In our original plans for the Flip's continuity, the final boss was an ancient evil known as Nadir, a sentient force known for absorbing entire universes. In this version, the World Book was a prison created by mages from many worlds to contain this entity. Axel would have been just a minor nuisance, while the larger evil grows ever powerful in the background, eventually endangering the entire universe inside the World Book, as the Town, the hub world, begins to get sucked in.
We had many different ideas for how this boss battle would play, usually involving different phases. One included tossing bombs into Nadir while it was in its black hole form, after which it would form into a humanoid shape made out of torn-up chunks of the world itself. Flip would then have to run and twist up this moving level to the head to attack it.
Not only would this boss have been a nightmare to try to build, we realized for the narrative of the story, fighting a villain that was less of a character with personality and motives, and more of a basic force, would be like fighting gravity or air. It's just not as interesting and compelling, because it's not a struggle that's very relatable. For this reason we removed Nadir from the story entirely, and focused on making Axel a worthy and interesting villain to drive the adventure.
I hope you will enjoy fighting the bosses of Flip's Twisted World as much as we enjoyed creating them. This concludes "Like a Boss". Now get back to work, Johnson!