by Kimberly Keller - 10:49 pm EDT
Total comments: 4 Source: GAME Official Twitter, https://twitter.com/GAMEdigital/status/36188503467...
Gotta catch this ball!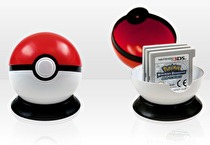 UPDATED: The Poké Ball bonus has also been confirmed for Australia, when you pre-order through EB Games.
United Kingdom trainers that pre-order Pokémon X or Pokémon Y through GAME retailers will receive a Poké Ball game card case with their purchase. Gamers who have already pre-ordered the game through the store will also receive the bonus.
Read more...