Nintendo is thinking about planting some more Pikmin level seeds.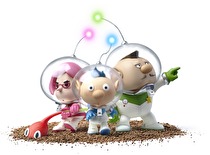 In a recent interview with Nintendo President Satoru Iwata and Shigeru Miyamoto it was stated that the Pikmin team is considering creating more content for the game.
Miyamoto was the one to touch on the subject saying, "So, using the internet [the team] thinks it'd like to add new missions and maps to the game little by little." There were no details released in regards to a timeframe or price.
Pikmin 3 launched in Japan earlier this month, and the game will be arriving in Europe, Australia and the US very soon.