Kadokawa Games' president gives the much requested update to the fans.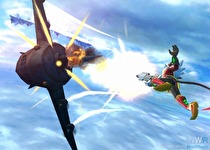 Prope's Rodea the Sky Soldier is still coming to the Wii and Nintendo 3DS. This was announced by Kadokawa's company president Yoshimi Yasuda in an interview with 4gamer.
The reason why Kadokawa Games remained so silent on the title, according to Yasuda, is that media simply lost interest in the title. The game was originally in development for 3DS and Wii, but as the main project was for Wii, the controls didn't feel right on 3DS so they determined they had to move in the direction of making a control style for 3DS. They want the player to really have tight controls and feel the flying elements of the game with each button push. The company wants to make a game that is going to be really enjoyed in full 360 degrees, so the producer is taking his time with the game.
According to Yasuda, the Nintendo 3DS version is roughly 70% complete and the quality is currently in a ''plus alpha'' state. What this means is currently still a secret and the president hopes that we are looking forward to the game. There will more information released in the near future.