Get ready to dig!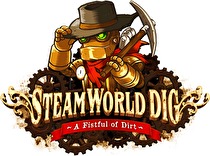 Swedish developer Image & Form's latest game, SteamWorld Dig, is headed to the 3DS eShop simultaneously in Europe, North America, and Australia on August 8.
"We finished development of SteamWorld Dig in the end of June. It has since passed Nintendo's lotcheck and is ready for release," said Brjann Sigurgeirsson, CEO of Image & Form.
SteamWorld Dig is a "hardcore platform mining adventure," set in a post-apocalyptic version of the 19th century. In this mining adventure, you take the role of Rusty, a steam-powered robot that accidently unleashed an ancient evil while mining for precious minerals. In addition to "taking on the terrors of the underground," you'll also be able to dig tunnels, mine for minerals, and upgrade your gear.
According to Image & Form, the game "contains around 12 hours of solid gameplay," and will cost 8.99 USD, 8.99 EUR, and 11.99 AUD respectively. The official trailer will be available on August 6.
You can read our interview with Sigurgeirsson for more information about the game.