A heavy concentration on rhythm games this time.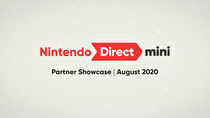 Other announcements from today's sudden Nintendo Direct Mini Partner Showcase:
The multiplayer mode for Harmonix's Fuser was shown off, as well as three new songs announced for the fall release.
The Taiko no Tatsujin Rhythmic Adventure Pack, a compilation of two rhythm-themed RPGs that originally released on the 3DS in Japan, debuted with a winter 2020 launch window.
World of Tanks: Blitz, a 7v7 online version of the incredibly popular free to play tank simulator, will be available today.
Big Rumble Boxing: Creed Champions is a new boxing game featuring the characters of the Rocky and Creed film franchises where players will be able to mix and match characters and complete the iconic training montages. It will be available next spring.
Just Dance 2021 was finally announced with the musical headliner of Billie English, and a November 12 launch date.
Minecraft Dungeons "Creeping Winter" DLC pack will be available on Switch next month.