Since two million of you downloaded Fortnite, know that there are other releases this week.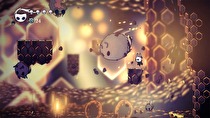 Despite all logic, there are a bunch of games coming out this week despite the Fortnite-shaped crater in the room. In the E3 shadowdrop department there's Fallout Shelter, Hollow Knight, and the prologue for Octopath Traveler/Splatoon 2 Octo Expansion. There's also Paladins releasing if you're into the hero shooter.
The week's retail release of note is LEGO: The Incredibles which will be dropping just after the LA Convention Center becomes a ghost town, and there's two old school-styled soccer games after the quadrennial corruption convention kicks off: Soccer Slammers from our friends at Atooi, and Super Sidekicks 3 in the Archives.
Japan gets God Wars, Yooka-Laylee, a bullet hell shooter called Sister Royale and more this week in addition to the big guns.
North America
Switch Retail
LEGO The Incredibles (US$59.99/C$79.99: Friday)
RBI Baseball 2018 ($29.99/$39.99)
Switch eShop
Paladins: Champions of the Realm ($29.99/$37.99: Tuesday, Founder's Pack)
Mahjongg Deluxe ($19.99/$23.99)
Pub Encounter ($16.99/$21.99)
Hollow Knight ($15/$16.99: Tuesday)
Bloons TD 5 ($14.99/$19.99: Wednesday)
Lanota ($14.99/$19.69)
Soccer Slammers ($9.99/$12.99)
Beekyr Reloaded ($9.99/$12.99)
Alchemic Jousts ($9.99/$12.99: Tuesday)
Whip! Whip! ($9.99/$12.59)
1917 - The Alien Invasion DX ($7.99/$9.99)
Moorhuhn Remake ($6.99/$8.80)
Chameleon Run Deluxe Edition ($5.99/$6.99)
Jolt Family Robot Racer ($4.99/$6.44: Monday)
Hexologic ($2.99/$3.49: Tuesday)
Fortnite (free to play: Tuesday)
Fallout Shelter (free to play: Monday)
Switch Archives
Donkey Kong ($7.99/$9.87)
Super Sidekicks 3: The Next Glory ($7.99/$9.87)
Demos and Trials
Octopath Traveler
Shining Resonance Refrain (Tuesday)
Devious Dungeon (Monday)
Sales and Price Drops
Highlights: Nintendo's E3 sale begins at noon Eastern time and runs until the same time next week. Spreadsheet
Europe
Switch eShop
Paladins: Champions of the Realm (€29.99/£26.99: Tuesday, Founder's Pack)
Mahjongg Deluxe (€19.99/£17.99)
Pub Encounter (€16.99/£15.99)
Lanota (€14.99/£13.49)
Hollow Knight (€14.99/£10.99: Tuesday)
Scalextric (€9.99/£9.99: Tuesday)
Alchemic Jousts (€9.99/£8.99: Tuesday)
Soccer Slammers (€9.99/£8.99)
Beekyr Unlimited (€9.99/£7.99)
Whip! Whip! (€7.99/£7.19)
Chameleon Run (€5.99/£4.99)
Jolt Family Robot Racing (€4.99/£4.99: Monday)
The Number Puzzle (€4.99/£4.49)
Hexologic (€2.99/£2.49: Tuesday)
Fallout Shelter (free to play: Monday)
Fortnite (free to play: Tuesday)
Switch Archives
Donkey Kong (€6.99/£6.29: Friday)
Super Sidekicks 3: The Next Glory (€6.99/£6.29)
Demos and Trials
Octopath Traveler
Shining Resonance Refrain (Tuesday)
Japan
God Wars: The Complete Legend (¥5918)
Yooka-Laylee (¥4250)
RBI Baseball 18 (¥3500)
Paladins: Champions of the Realm (¥3239, Founder's Pack)
Inner Space (¥2600)
Aces of the Luftwaffe: Squadron (¥1780)
Pub Encounter (¥1780)
Lanota (¥1500)
No Heroes Here (¥1500)
Sisters Royale (¥1500)
Hollow Knight (¥1480)
Alchemic Jousts (¥1080)
Whip! Whip! (¥1000)
Arcade Archives Donkey Kong (¥823)
Super Sidekicks 3 (¥823)
Fortnite (free to play)
Octopath Traveler: Prologue Demo