It'll be free to play... eventually.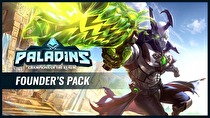 Next Tuesday will see the launch of a popular hero shooter on the Switch.
After being teased with eShop updates, Paladins: Champions of the Realm was listed in the European eShop as available for pre-purchase with an unlock date of 12 June (this coming Tuesday). Although the game is normally free-to-play, the listing is for a Founder's Pack that comes with exclusive voice packs and has all playable characters unlocked for €29.99/£24.99. The listing confirms the game will go free-to-play later this year.
Paladins is a 5-on-5 shooter with customizable heroes who can adapt multiple styles of play and unlock cosmetics through gameplay or purchase. Cross-platform play may be supported, though this is not confirmed, as the ad includes a reference to "join 25 million players".