Here comes the money...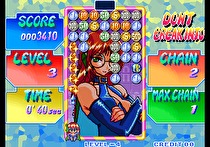 Hamster held a livestream today in Japan to announce the next few Arcade Archives titles from the Neo-Geo.
Super Sidekicks 3: The Next Glory is first up, releasing next week. Following it will be 2D fighter The Last Blade 2, cult classic puzzle game Money Puzzle Exchanger, early first person action RPG The Super Spy, and early bowling sim League Bowling.
As with prior Hamster Neo-Geo releases, the games will release in the same week in the West as they do in Japan.