"And on to centre court steps the lolloping frame of Luigi Mario."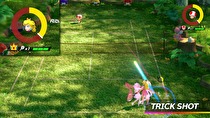 A surprisingly volatile week in the retail sector sees two bigger titles hitting the court in the form of Mario Tennis Aces and The Lost Child. However, don't sleep on the third retail title; Musynx, the follow-up title to Superbeat Xonic from the same developer. The biggest indie download this week is Pode, which you might recall from the Nindies Direct a few months back.
In the smaller downloads, we've got Drawful 2 extricating itself from the Jackbox Party Pack and going up as a separate download, the first part of The Longest Journey, and Lost in Harmony. The Archives this week include Gunbird 2, The Last Blade 2, and in North America Data East's Wizard Fire comes over.
Europe and Japan are locked in for the Captain Toad demo this week, will North America be so lucky? Editor's note: Yep.
North America
Switch Retail
Mario Tennis Aces (US$59.99/C$79.99: Friday)
The Lost Child ($49.99/$64.99: Tuesday)
Musynx ($26.99/$34.01)
Vegas Party ($24.99/$31.49)
Switch eShop
Pode ($24.99/$)
Anima: Gate of Memories – The Nameless Chronicles ($19.99/$24.99: Tuesday)
Destiny's Princess: A War Story, A Love Story ($14.99/$19.99)
The Journey Down (Ch. 1) ($9.99/$12.59)
Drawful 2 ($9.99/$12.49)
Ink ($8.99/$11.33: Tuesday)
Lost in Harmony ($6.99/$8.99)
Grab the Bottle ($4.99/$6.29: Wednesday)
Switch Archives
The Last Blade 2 ($7.99/$9.87)
Gunbird 2 ($7.99/$8.99)
Johnny Turbo's Arcade: Wizard Fire ($6.99/$9.04)
Demos and Trials
Caveman Warriors
Captain Toad: Treasure Tracker (Switch / 3DS)
Sales and Price Drops
Highlights: Sonic the Hedgehog titles are on sale until June 25. Spreadsheet
Europe
Switch Retail
Mario Tennis Aces (€59.99/£49.99: Friday)
The Lost Child (€49.99/£49.99: Friday)
BlazBlue: Cross Tag Battle (€39.99/£34.99: Friday)
RBI Baseball 18 (€24.99/£24.99)
Vegas Party (€24.99/£22.49)
Flashback Remastered (€19.99/£17.99)
Switch eShop
Pode (€24.99/£22.49)
D/Generation: The Original (€16.99/£14.99)
Just Shapes and Beats (€16.79/£15.09)
Lanota (€14.99/£13.59: Wednesday)
Bloons TD 5 (€14.99/£12.49: Tuesday)
Destiny's Princess: A War Story, A Love Story (€14.99/£13.49)
The Journey Down (Ch. 1) (€9.99/£8.99)
Ink (€8.99/£8.09: Tuesday)
Drawful 2 (€8.49/£7.69)
Moorhuhn Remake (€6.99/£6.29)
Lost in Harmony (€6.99/£6.29)
1917 – The Alien Invasion DX (€6.99/£6.29: Friday)
Grab the Bottle (€4.99/£4.49: Wednesday)
Switch Archives
Gunbird 2 (€6.99/£6.99)
The Last Blade 2 (€6.99/£6.29)
Demos and Trials
Captain Toad: Treasure Tracker (Switch / 3DS)
Caveman Warriors
Deemo
Japan
Mario Tennis Aces (¥6458)
THE Mahjongg (¥2000)
Sengoku Himeka ~Jika no Chigiri~ (¥1580)
Radiation Island (¥1050)
Robonauts (¥980)
Gunbird 2 (¥864)
The Last Blade 2 (¥823)
Super Toy Cars (¥800)
6180 the moon (¥400)
Captain Toad Treasure Tracker (demo)