Craft weapons and swing on vines in this week's Nintendo Downloads.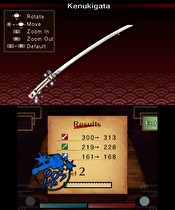 This week in Nintendo Downloads features platforming apes, weapon crafting, dog fighting, and more.
3DS eShop Sales
Heavy Fire: Black Arms 3D - $2.99 until March 6.
Heavy Fire: Special Operations 3D - $2.99 until March 6.
Robot Rescue 3D - $0.99 until March 6.
Crazy Chicken Pirates 3D - $0.99 until March 6.
Bird Mania Christmas 3D - $0.99 until March 6.
Wii U Retail Games
Donkey Kong Country: Tropical Freeze - $49.99, Available February 21
3DS eShop Games
Weapon Shop de Omasse, the final game of the 3DS Guild01 collection, is finally available in the West. Enjoy the writing of the popular Japanese comedian, Yoshiyuki Hirai, while you craft weapons for adventurers using the game's rhythm game-like mechanics. You can read our review here.
Released on the Wii U last year, Neko Entertainment's action platforming title, Kung Fu Rabbit, is now available on the 3DS. The game promises dozens of hours of play, with 80 levels and 15 collectible items. Check out our review the Wii U title here.
Challenge your brain with Quell Reflect, a puzzle game that features over 100 logic defying levels.
3DS Virtual Console
The Mekazukin army has invaded Bird Land; the only way to stop them is to hop in your trusty plane and blast them out of the nest. You can either play alone or with a friend in this NES port this Namco classic shoot'em-up.
Wii U Virtual Console
Sports games have come a long way since the days on the NES, but if you'd like to refresh your memory of just how primitive they once were, you can now pick up Ice Hockey on the Wii U Virtual Console. You'd probably be better off playing air hockey.