A novel idea that doesn't strike the iron quite right.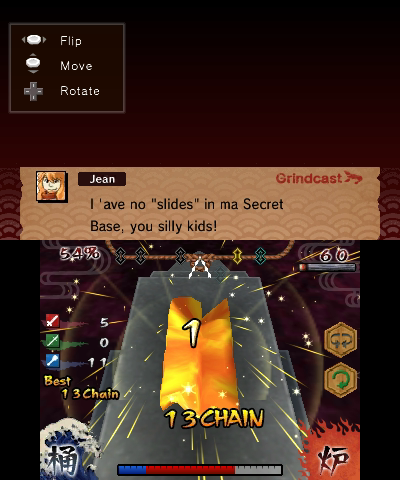 Within the opening minutes of Weapon Shop de Omasse, it is pretty evident why it took so long for the fabled fourth Guild01 3DS game to make it over. This very weird game features a laugh track and contains a story presentation that more closely resembles a sitcom than anything else. The humorous story, featuring a mismatched pair running a weapon shop for a variety of RPG heroes and NPCs, is the driving force, and it doesn't go anywhere further than riffing on RPG tropes. This ends up making it feel like a funny story and concept wasted on a game with little substance.
The flow of the weapon shop follows a day/night cycle, as you forge and polish weapons through repetitive rhythm-based mini-games and wait for clients to come in and request weaponry. The key is to make the weapons as strong as you can through success in the mini-games, use by heroes, and adding in special materials. It is a little complicated at first, but pans out to be simple. Characters very clearly ask for specific types of weapons, and all you need to do is not flub the forging and they'll most likely complete their quest.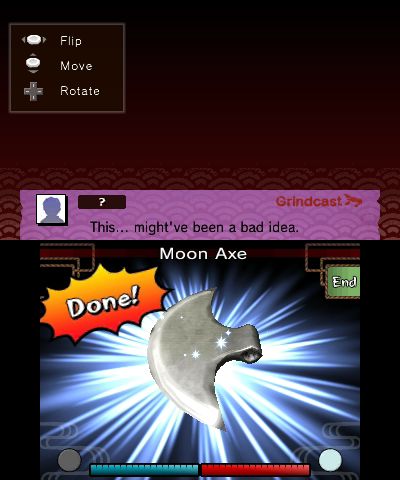 Maintaining your weapon stockpile is a large part, but so is checking in on your heroes as they quest and fight monsters. A few heroes are frequent visitors, and you witness their stories develop over time as the threat of the Evil Lord idles in the background. The humor is worth a few smiles, primarily based around Dragon Quest-level accents, RPG tropes, and Twitter jokes. A bombastic hero has a wacky French accent, a pair of bumbling girls keep running away from battle, and an old woman doesn't know how to use hashtags. It's all the kind of humor that would be welcome as a component of a deep RPG, but, unfortunately, Weapon Shop de Omasse is too shallow. In a way, it's the antecedent to fellow Guild01 game Crimson Shroud. Both have decent stories, but Crimson Shroud has the gameplay to back it up. Weapon Shop de Omasse is just a repetitive grind through the life of a blacksmith.
The repetition might be part of the joke, as the life of these blacksmiths involves weapon crafting, renting, and little else. Weapon Shop de Omasse is kind of like The Legend of Zelda: A Link Between Worlds but if you played as Ravio. The writing can be clever, but it's not strong enough to carry the entire experience. With super simple gameplay, the only rewarding part of Weapon Shop de Omasse is its lighthearted story that isn't all that memorable.