Virtual Console titles make a return!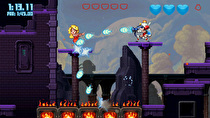 Finally some love for the Virtual Console this week! It's been quite a while since we've had the chance to replay some old classics. For those of us already seeking the next thrill after last week's Pokémania, SteamWorld Dig is having a sale and Mighty Switch Force! 2 has come to the Wii U. So, what are you downloading this week? Let us know in the comments below!
3DS Retail Games
Hometown Story - $TBA, Available October 22
Jewel Master: Cradle Of Rome 2 - $19.95
Wii U Retail Games
Just Dance Kids 2014 - $TBA, Available October 22
Deus Ex: Human Revolution Director's Cut - $TBA, Available October 22
3DS eShop Sales
SteamWorld Dig - $7.19, until October 20
3DS eShop Games
Tamagotchi pets are so 15 years ago. Get with the times and adopt some penguins already, your personal life will thank you. Rack up countless hours primping, grooming, and teaching 101 penguins how to dance.
I always panic when it comes to brunch. Is it breakfast or is it lunch, what do you eat? Should I order an omelet or a sandwich? Finally, there's a brunch-centric food truck game that reflects my feelings on brunch.
Forget Veterinarian school. Get yourself a 3DS and a copy of My Vet Practice 3D instead! It's cheaper and, probably, more fun than sitting through boring classes.
The summer heat is behind us and so are all those silly water-based racing games. Time to saddle up for some arctic action with Snow Moto Racing 3D!
3DS Virtual Console
Pinball: Revenge of the Gator - $2.99
Pinball just isn't enough to entice me anymore, but throw some dangerous gators into the mix? I'm sold. Plus, bonus, it's made by HAL Laboratory!
Wii U eShop Games
Mighty Switch Force! 2 has made its way to the Wii U and it's just as cute as ever. If you've been waiting to experience this game on a screen a little bigger than a 3DS, then this is the week for you.
Wii U Virtual Console
We all hate bullies, but in the real world we don't always get a chance to stand up to them. Work out those latent frustrations you still have lingering from second grade by beating the tar out of the neighborhood bully in Urban Champion.
Despite what you may have heard from a certain singing lobster, things aren't necessarily better under the sea. The kingdom of Clu Clu Land is in need of some serious puzzle-solving talent. Step up and dig up some of those hidden gold bars!