Really though, we all know that Bulbasaur is the best Pokémon. Right, guys?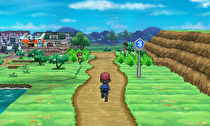 It's here, the long wait is over! Nintendo is finally releasing Golf and Tennis on the Wii U Virtual Console! Oh man, I've waited for this day for so long. Pokémon X and Y also come out this week, if you're into that. But, come on, Tennis and Golf!
Seriously though, Pokémon X and Y are coming to a 3DS (or 2DS!) near you. So get ready to shell out some cash and destroy your social life with the next evolution in the Pokémon franchise. And, if you're still on the fence, check out our reviews for both Pokémon X and Pokémon Y!
3DS Retail Downloads
Pokémon X - $39.99, Available October 12
Pokémon Y - $39.99, Available October 12
3DS eShop Games
Those of you lamenting the lack of a new Wave Race might want to take a look at Aqua Moto Racing 3D. Race through various championships, upgrade your ride, and, with local multiplayer, you and your friends can fashion a giant fiberglass jet ski to sit on while you play together. Just like in the arcade!
Escape From Zombie City - $3.99
Alright, fine. I admit my decision to vacation in Zombie City was a bad idea. Are you happy? Now let's just focus on how to get the heck out of here. Load up on your favorite zombie-killing weapons and power your way out of town in this top-down shooter.
Shin Megami Tensei: Devil Survivor Overclocked - $39.99
Clocking in at over 40 characters, the title of this game is almost as long as the game itself. If you're looking for a nice, long RPG to settle in with then this might be the game for you. Now get out there, save the world, and put the hurt on some demons!
You look tense. I know, how about a relaxing day fishing some black bass? Not good enough? Well, how about instead you just lay on the couch and catch some virtual bass? No sunburn, no fish smell, and no clean up.
Wii U Virtual Console
Good ol' Mario, is there any job you won't do? Spend some time on the court under the watchful eye of our favorite plumber. Varied difficulties, doubles matches, tennis balls, a net; this tennis game has it all!
When he isn't acting as referee for tennis matches, Mario likes to hit the green and relax with a nice game of golf. So grab your clubs, get out there, and enjoy the beautiful digital blue skies of the golf course.
DSiWare
Zombie Blaster - $4.99/500 Points

Two Pokémon games and two zombie games all in one week! Talk about a jackpot. With a whopping three weapons to choose from, I don't know how you could ever get bored with Zombie Blaster. Anyway, you know the drill by now. Get some ammo, blast some zombies, and have some fun.