Not only is he missing limbs, but Rayman is missing a release date!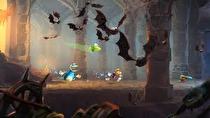 Rayman Legends has been delayed past its February 26 release date. Ubisoft has confirmed that the game is now scheduled for release in September.
The announcement comes on the heels of news that the title will also be released on the PS3 and 360. There is no confirmation that the delay comes as a result of this decision.
Legends was initially scheduled for the Wii U's launch date, alongside Ubisoft Montpellier's other title, ZombiU. Leading up to the launch, the title was delayed to its February release date.