A special guest, and some very unfavorable news about Rayman, appear just in time for this week's podcast.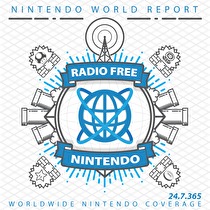 Subscribe via iTunes (Please rate and review, too!)
For some people, this time of year is slow for gaming. Don't tell the RFN crew, because we're slammed with games and game-related things to discuss. James starts with this week's big new release, Fire Emblem Awakening, though it's preceded by his own soul-searching about whether to buy the game digitally in face of retail shortages and delays. Jon follows-up on the Hyrule Historia with a deeper look at the book's content, including some disturbing/hilarious looks at the Zelda franchise's more obscure characters and events. Jonny and his in-person guest (we'll leave it a surprise for now) team up for a marathon of Wii U multiplayer gaming that includes Call of Duty: Black Ops 2, The Cave, Sonic & All-Stars Racing Transformed, and Super Smash Bros. Brawl. They also played Ikachan (separately), and Jonny shares some wrap-up thoughts on Crimson Shroud, while his guest reports on Batman Arkham City: Armored Edition. A very patient Guillaume concludes our epic New Business with his ambivalence over both Puddle and Rhythm Thief.
The Rayman Legends delay was announced just hours before recording, and some quick-fingered listeners snuck in their flabbergasted emails just in time. We spend a fair bit of time looking at the situation and its larger implications for third-party support on Wii U. Other topics in Listener Mail include the best digital download values and why our usage of Miiverse has faded since launch.
The show closes with a couple of exciting announcements. We're close to opening the next RetroActive poll -- check back here and on our social network outlets for details on that soon. And more importantly, we're expecting to have friend-of-the-show Chris Kohler from Wired's GameLife blog/podcast on the PAX East panel! Until then, send in your own Listener Mail questions to hear them discussed on an upcoming episode. And as always, thanks for listening!
This podcast was edited by Jonathan Metts and James Jones.
Music for this episode of Radio Free Nintendo is used with permission from Jason Ricci & New Blood. You can purchase their newest album, Done with the Devil, directly from the record label, Amazon (CD) (MP3), or iTunes, or call your local record store and ask for it!
Additional music for this episode of Radio Free Nintendo is copyrighted to Nintendo and is included under fair use protection.