Alongside the free app on Wii U, Ubisoft confirmed a September release date for the delayed game.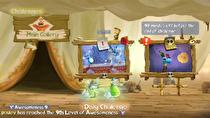 Rayman Legends is coming to Wii U (and other systems) on September 3 in North America and August 30 in Europe, according to Ubisoft. Additionally, the free Challenge App for Rayman Legends is available today for the Wii U on the eShop in North America and Europe.
The Challenge App will only be available for Wii U users and is the first time a Rayman game has implemented online features, as leaderboards and daily/weekly challenges will continually be updated.
The app's lobby will display different paintings, each leading to a new challenge in one of four levels: Murfy's Dungeon, The Neverending Pit, The Infinite Tower, and Land of the Livid Deads. Randomly generated challenge levels will be offered on a daily and weekly basis, allowing for competition between one to five players. Global leaderboards will keep track of the challenge records. Murfy's Dungeon is a Wii U-exclusive mode in which players will use the GamePad to interact with objects in the level to help other players get through the chaos.
This app is being launched to try to make up for the six-month delay of the Wii U version to allow for Xbox 360 and PlayStation 3 versions to be created. New levels and bosses will also be added due to the delay.
Rayman Legends will arrive on the Wii U on September 3 in North America, and August 30 in Europe.