Early adopters of the system in will receive lots of free goodies.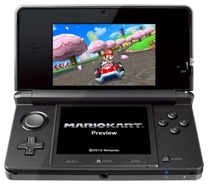 Nintendo announced that early adopters of the 3DS, who bought the system prior to the recently announced price drop, will receive 20 free games through the eShop. This initiative is called the "Ambassadors Program."
To be eligible for the free downloads, users must connect to the eShop through a wireless Internet connection before 11:59 p.m. Eastern time on August 11. This will automatically register you for the Nintendo 3DS Ambassadors Program.
Beginning September 1, 10 Virtual Console NES games will be released early as free eShop downloads for Ambassadors only. When the games are released to the public as paid downloads later in the year, the updated titles can be re-downloaded free of charge. Additionally, 10 exclusive Game Boy Advance Virtual Console games will be released by the end of the year, with no current plans to make these available for normal purchase.
NES/Famicom Virtual Console titles will include:
- Super Mario Bros.
- Donkey Kong Jr.
- Balloon Fight
- Ice Climber
- The Legend of Zelda
Game Boy Advance Virtual Console titles will include:
- Yoshi's Island: Super Mario Advance 3
- Mario Kart: Super Circuit
- Metroid Fusion
- WarioWare, Inc.: Mega Microgames!
- Mario vs. Donkey Kong