The headline was written optimistically, but I stand by the claim.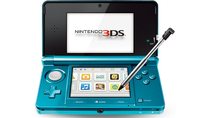 After I've had time to digest Nintendo's absurd $80 price cut on the 3DS, which goes officially into effect today, it excites me. People are calling for Nintendo's head, and that $250 was a mistake. However, I like the reaction to slow sales of the first few months, which honestly aren't that terrible; they just pale in comparison to the recent success of the DS.
Nintendo missed expectations, and that's why the price cut happened. They predicted a certain amount and they didn't match it. I wouldn't say that sales have been awful, but more like Nintendo had high hopes. Regardless, I love the situation the system is in because of the Ambassadors Program and the $170 price.
The 20 free games have done their job to excite the deep-seeded, retro-loving 3DS owners. We might bitch about paying $40 for a game we played 13 years ago, but we'll eat up the chance to get 20 games we loved more than 10 years ago for free. Everything just seems a little bit brighter now. Yes, the August release schedule is miserable (Who would've thought a MegaTen game would be THE release of an entire month for a system in its first six months?), but with the promise of 10 free games on September 1 and 10 more throughout the rest of the year, it helps obscure the lackluster release schedule.
And say what you will about Ocarina of Time 3D and Star Fox 64 3D, but those games look good. The price might not agree with everyone, but if original games can be made with that amount of love, this system will rock. We'll get proof of that this fall with Super Mario 3D Land and Mario Kart 7. Unfortunately, games keep on getting delayed from this fall window. Metal Gear Solid 3D is a 2012 game. Crush 3D got pushed back to February. Kid Icarus: Uprising is looking like it has a better chance of being a January 2012 game at best (though that's more proof of Project Sora not being able to hit a deadline. Get pumped for Smash Bros. in 2014, guys!).
While I wouldn't call the present of the 3DS to be a bright, shining light, I look forward to the future and the potential of the system. As long as the system sells well this fall, we should get back to the wonderful stream of quality game output that the DS had for most of its life. There is a light at the end of the tunnel, and if we're lucky, it's not the death knell of the Game Boy, it's a new era of greatness.