We've got a lot to say about the 3DS price drop and Ambassadors Program.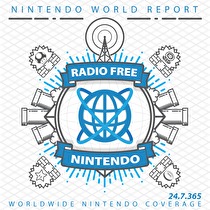 Subscribe via iTunes (Please rate and review, too!)
This week on RFN, we change things up by opening with an email about Nintendo's odd 3DS marketing strategy so far. Of course, that is merely the launch pad for an extensive, segment-filling discussion of the big price drop and how it will influence the platform's viability going forward. We also take a close look at the 3DS Ambassador Program that marks a drastic new way for Nintendo to reward (and apologize to) the company's biggest fans. Ultimately, we all agree that this development is a savvy move and can only be a positive thing for gamers.
After the break, we catch up with a number of games for New Business, including some unreleased titles, as Greg just got back from the annual "E3 in England" event. He reports on the newly renamed Super Mario 3D Land and Mario Kart 7, but also gushes on the less-hyped DS swan song, Kirby Mass Attack. James spends his time dictating a love letter to the new XBLA release of Half Minute Hero, the unique micro-RPG, which he also got to play online with Jonny. The latter finally got around to playing Ghost Trick and Dark Void Zero, and he has kind things to say about both. So, all in all, this is a very positive episode of RFN. Remember, video games are fun!
There are a few days left to vote in the new RetroActive poll -- help choose which GameCube title we'll play and discuss on an upcoming show!
This podcast was edited by Greg Leahy.
Music for this episode of Radio Free Nintendo is used with permission from Jason Ricci & New Blood. You can purchase their newest album, Done with the Devil, directly from the record label, Amazon (CD) (MP3), or iTunes, or call your local record store and ask for it!
Additional music for this episode of Radio Free Nintendo is copyrighted to Nintendo, and is included under fair use protection.